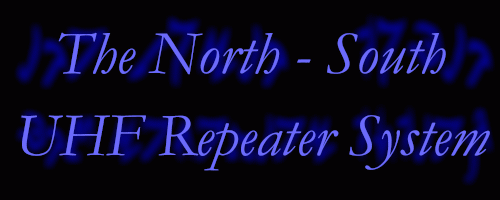 What is the North-South UHF link system?
The North - South system is a Amateur Radio Linked UHF Repeater system comprised of a number of repeaters connected together to provide a means of communicating via portable, mobile, or fixed stations over a wide area of Pennsylvania and Maryland. This system was installed in 1993 and continues to provide excellent UHF communications over several mountainous counties in southwestern Pennsylvania, and northern Maryland.
Technical Operation:
This system is based around the 443.950+ N3VFG hub repeater located in Somerset PA. The HUB is used as the central link of the System. When connected, a linked repeaters audio is routed through the central hub repeater and is available for distribution to the rest of the system. Any linked repeater may be dropped from the system to provide local communications when necessary. Outboard repeaters are linked via a simplex radio to the main HUB directly on frequency. No "link" frequencies are actually used, rather the outboard repeaters are "remoted" or "remote based" to the HUB for simplicity.

Operating Guidelines:
Whenever you bring up the North - South system, please keep in mind that you're talking over a very wide area. If your conversation is local, it's probably better on a local system. If it's just filling air time, think of all the other stations listening. Quiet helps us to monitor, especially late at night. Please remember that this system was designed to be used in emergency situations, and it must be available when needed. We appreciate you using the system cautiously, The Somerset and Cambria County Emergency Management Agencies.
Things to do:

Pause a moment between keying and talking. Leave a second or two between transmissions.

Use the network for regional SKYWARN, or ARES / RACES operations.

Participate in technical discussions relating to amateur radio.

Let someone from N-S know about your planned operations, in advance, whenever possible.
(It helps us to make sure the system is ready.)

Send us performance reports by e-mail. (see links below)

Technical Specifications of the System
The North - South UHF System
LOCATION
OWNERSHIP
CALLSIGN
FREQUENCY
OFFSET
PL
Somerset, PA
Kevin Custer

N3VFG
443.950
+5
88.5
Johnstown, PA
Hilltop Repeater Association
N3LZX
444.375
+5
123.0
Carrolltown, PA
Tom Brew
K3WS

KB3BLF
443.525
+5
123.0
Johnstown, PA
Dan Ruhe
KB3BLF
442.825
+5
123.0
Mount Davis, PA
Kevin Custer
WA3P
443.725
+5
127.3
Seven Springs, PA
Kevin Custer
KB9WCX
443.925
+5
123.0
Johnstown,
PA
Kevin Custer
Dan Ruhe
KE3UC
443.575
Stand Alone
+5
123.0

17293876152334
Visitors since October 11 1998

Copyright © 1998 - 2011 W3KKC